Is there any power supply system that can fit all of your specific requirements in one? As an SMPS manufacturer, MORNSUN has the optimal power solutions for you. From modules ranging from 15W to 1000W, MORNSUN offers a wide selection of AC/DC enclosed switching power supplies that feature a wide input voltage range, a wide operating temperature, and excellent EMC performance, which is ideal for a wide range of industries such as industrial automation, instrumentation, charging station, LED, street light control, electric power, smart home, IoT and medical, etc. In addition to meeting the newest technological needs in the industry, our AC/DC enclosed SMPS goes a step further, offering an optional conformal coating to ensure protection from humidity and airborne contaminants. Check these cost-saving, advanced SMPS below, we guarantee to have the piece perfect for your machines!
Pros and Cons of SMPS
A switching mode power supply (Switched Mode Power Supply, Switch-mode Power Supply, referred to as SMPS), also known as switched power supply, switching converter, is a high-frequency power conversion device. Its function is to convert a level of voltage into the voltage or current required by the users through different forms of topology. Switched power supply has the following advantages.
1. Low power loss and high efficiency. The power transistor works alternately in the on-off switch state and the switching speed is very fast, which makes the power consumption of the transistor very low and the conversion efficiency can be greatly improved. The efficiency of SMPS can be as high as 95%, while the efficiency of linear power supply can only reach 30% to 40%. In addition, it has the key features of small size, lightweight, and lower cost. Because the bulky power frequency transformer is not needed, and the dissipative power of the transistor is greatly reduced, the larger heat sink is saved, so the volume and weight of the SMPS are only 20% to 30% of that of the linear power supply, and the cost is lower accordingly.
2. Wide range of voltage stabilization. The output voltage of the switching power supply is adjusted by the duty cycle of the excitation signal, and the change of the input signal voltage can be compensated by frequency modulation or width modulation. In this way, when the voltage of the power frequency grid changes to a certain extent, it can still guarantee a relatively stable output voltage.
3. Smaller Size. At present, the working frequency of the switching power supply is basically 50kHz, which is more than 1000 times that of the linear power supply, enabling the filtering efficiency of the rectifier by almost 1000 times. Under the same ripple output voltage, when adopting a switching power supply, the capacity of the filter capacitor is only 1/500~1/1000 of that in the linear power supply. The efficiency of the filter is greatly improved, resulting in the capacity and volume of the filter capacitor being greatly reduced. The volume of SMPS is much smaller than the linear power supply's volume.
However, SMPS also has the disadvantages of a more complex control circuit and higher requirements for manufacturing technology and maintenance.
Besides, there is switch interference in SMPS. Due to the frequent switching of the transistor, the AC voltage and current converted by the transistor produce spike interference and resonance interference through the components in other circuits. If these interferences are not suppressed, eliminated, and shielded, they will be connected to the power grid, resulting in electromagnetic interference, thus affecting the normal operation of other equipment nearby.
The Trends of SMPS
The trends of SMPS technology are higher frequency, higher efficiency, lower ripple noise, anti-interference, and modularization. The key to realizing the goal of lightness, thickness, and small size of SMPS is the high-frequency technology, so the major switching power supply manufacturers are committed to the simultaneous development of new highly intelligent components. As an SMPS manufacturer, MORNSUN is dedicated to helping promote the development of the switching power supply industry. It offers a wide selection of AC/DC enclosed switching power supplies ranging from 15W to 1000W that fit these key requirements and help future-proof our customers' systems in a broad spectrum of industries.
The reliability and performance of our power supply rank as one of the top value propositions we are proud to offer.
LM50-23B
LM100-23B
LM100-23B
LM230-23B
Advantages of MORNSUN AC/DC Switching Power Supply
Wide Selection, Reliable Performance, Reasonable Price
Temperature & Altitude

Operating temperature: -30℃ to +70℃
Operating altitude up to 5000m

Multiple Protections

Output short circuit, over-current, over-voltage,
over-temperature protection
Conformal coating is available

High Reliability

Isolation up to 4000VAC
Withstand 5G vibration test
Low ripple & noise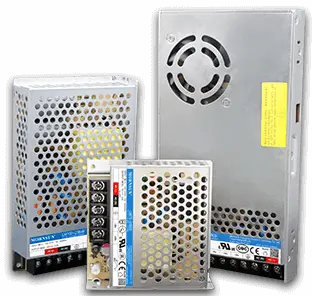 Optional Input Range

Universal input: 85-305VAC or 85-264VAC
Special input: 165-264VAC

High Efficiency

High efficiency up to 95%
Low standby power consumption
Active PFC function is available

EMC Performance

EMI: CISPR32/EN55032 CLASS B
EMS: IEC/EN 61000

Complete Certifications

IEC/EN/UL62368, IEC/EN60335
EN61558, GB4943
Power Solutions Overview of MORNSUN Switching Power Supply
MORNSUN AC/DC Enclosed Switching Power Supply Video
MORNSUN AC/DC Switching Power Supply Brochure
MORNSUN - AC/DC Power Supply Manufacturer
Technical team. Our R&D engineers at MORNSUN have designed varied AC/DC power supplies catering to the various needs of your power systems. You can choose one or more of our advanced and cost-efficient components, spacing from board mount AC/DC converters and enclosed switching power supplies to DIN Rail power supplies. Guided by the service principle of "trustworthiness", MORNSUN offers the best products, fast and local service, and efficient pre-sales and after-sales support for clients worldwide.
MORNSUN provides professional power supply services. Backed by a perfect management system that consists of advanced research technology, a high-quality raw material platform, advanced equipment, excellent manufacturing process management, specialized screening sequence on reliability and rich experience, each solution from MORNSUN is designed to improve the stability, safety, and reliability of your power system.
Contact us now to request a sample and a quotation!